For many people, healthy living is not just about improving the quality of life or getting fitter, it is also very directly tied to longevity. We all want to live longer, happier, healthier lives. So we cut down on junk food, grudgingly give up some of our guilty pleasure pastries, commit to sleeping better, and exercising more.
But what about those who are already advanced in age, those who've achieved what many aspire to and are now in the twilight of their lives? What motivates seniors to commit to healthier dietary habits?
Here, we explore the answers to those questions, look into some causes of current dining trends in senior living, and what some of the innovative food and dining trends in senior living are.
What Causes New Dining Trends In Senior Living
Even with all the upheaval and disruption that COVID-19 has wrought over the last few years, the glass-half-full kind of person could still point to a few things that we are doing better as a result. Few will disagree, for example, that there is a renewed focus on health that is unprecedented in recent times.
Apart from practicing better hygiene, medical experts are also counseling better attention to other aspects of personal health in order to stand the best chance of surviving the virus. Nutrition is one of those. The first line of defense against disease is the immune system, and that is bolstered by consistently having a balanced diet.
For the elderly, this is especially true. Not just because of COVID, though this has accentuated attention on the subject, but also because they are particularly at risk when it comes to a number of diseases that take advantage of weakened immune systems, and other problems related to aging.
Good senior living facilities therefore place a lot of importance on the food they serve their residents. With the rise of COVID, this has driven even more change in trends in senior living dining.
Trends In Senior Living Dining: New Venues
One of the differences that has come about in recent years is the change in dining locations. The need to social distance is probably a big contributing factor. In the last few years, society as a whole has seen fewer and fewer people dining in restaurants. Assisted living facilities have followed suit and adjusted their approach to find ways to adapt to the new normal.
Here are a few options that have emerged:
Using Outdoor Spaces
With the COVID-related risks that come with gathering in closed spaces, dining spaces have moved outdoors where they provide a more relaxing atmosphere and it is easier to social distance. Interaction with nature can have a positive impact on a person's wellbeing, even more so for people with memory-related challenges.
Adapting Existing Dining Places
Even when the dining area remains indoors, it is still possible to implement changes and use the same spaces more prudently. For example, dining times could be spread out to avoid having a large number of people in the same area at the same time. Separate entrances and exits can be designated to control the flow of people and avoid situations where they are milling around one space.
Dividers can also be set up to help enhance privacy and provide better social distancing, all while maintaining a dining experience similar to one of a restaurant.
Grab-and-Go Option
This option involves having residents come and collect their meal from a predetermined point and take it elsewhere to eat. This ensures that interactions are better controlled, and reduces the likelihood of spreading COVID and other contagious diseases.
Trends in Senior Living Dining: New Menus
Changes in dining patterns are not limited to where seniors are having their meals and the organization of their dining setup, living facilities are also rethink about the food selection itself – the menus.
Farm-To-Table Menus
To ensure that their residents get not just the right dietary requirements from their food, but also an over higher level of quality, assisted living facilities are turning to products from local farmers, or even products that they themselves grow. In addition to this, communities may plan their menus around products that are in season to provide further assurances of the freshness of ingredients.
Specialized Diets
There is also a shift towards more targeted diets that provide different health benefits. For example, there might be menus that consist of foods that promote brain function. Nutritionists may add items such as fish oils, different kinds of berries, the green vegetables we are all scolded about by fussy moms, and so on.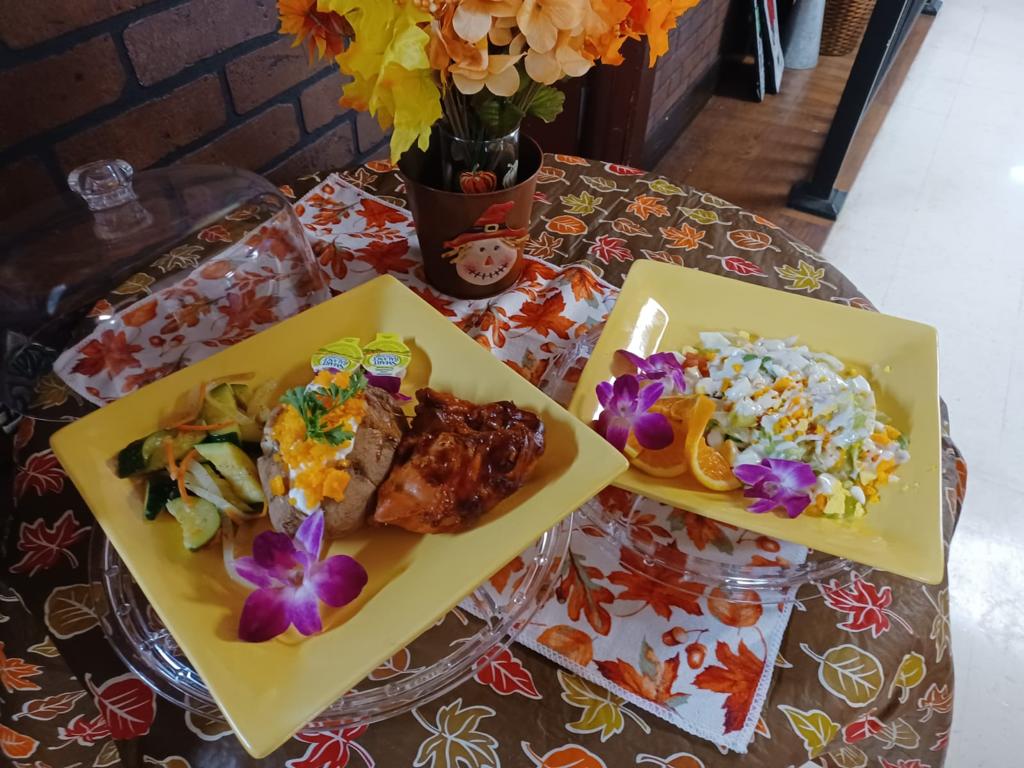 Dining Trends at Colonial Assisted Living
At Colonial Assisted Living, we focus on providing both the environment and the nutritional needs that provide the best possible quality of life for our residents. We have a beauty salon, wellness center, and if needed, private dining options.
Our community provides a restaurant-style dining setup with menus that go beyond just the dietary needs of our residents, and demonstrate our care and devotion to their wellbeing. For starters, the meals are absolutely scrumptious – and that is by no means an exaggeration. We strive to make the dining activity as positive an experience as possible. Just a glance at one of our carefully prepared dishes is enough to communicate this commitment to our residents.
Our meals are all freshly cooked, with only the best ingredients with guaranteed freshness, as they are sourced locally. The menus are carefully crafted by experienced and highly knowledgeable nutritionists to ensure we are giving our residents everything they need for a healthy and wholesome lifestyle.